Free Tickets For Kids Theatre Show
AWARD winning actor/producer Paul Adams is giving away free tickets to his new Theatre 4 Kids show 'Adventures of Peter Rabbit'.  The free offer is to celebrate the launch of his new production aimed at primary school aged children, but you must grab yours before 30 June 2019.
Mr Adams is presenting the Theatre 4 Kids shows during the day in the school holidays.  "I have been keen to do something in the holidays for ages.  As parents we are always looking for fun, affordable stuff for our kids to do so I thought not only do we get to make fun shows, we can bring a smile to the parents face as well.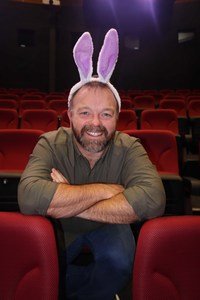 But  it won't be just your average show. "I want it to be a real experience that kids love so there will be other things happening around the show times.  We will have a site specific treasure hunt and other fun games and activities before and after the show itself."
The tickets will come in the form of a $25 gift card that can be used for any future show. "The $25 gift card fully covers the cost on one ticket and the beauty is it won't expire. So if parents can't make the first show this year, they can use it next year." Mr Adams explained, "I want it to be a real gift that can be used whenever they are ready."
The first Theatre 4 Kids show will be 'Adventures of Peter Rabbit, a new adaptation of the Beatrix Potter classic tales and will premiere in the newly renovated Ron Hurley Theatre at the Seven Hills Hub on September 24th and 25th, 2019.
"I am so pleased to be producing in the local area." Mr Adams said, "Parents will not only have an easier time getting to the shows, it will be way cheaper as well."
The gift cards will only be available until 30 June 2019.
Get yours by heading to
https://www.smallcrownproductions.com.au/theatre4kids/