An Original Poem Crafted For The One You Love
Unique and Original
Unique
Imagine giving a loved one a poem entirely unique.
Each line crafted with your knowledge about them.
No two sonnets are the same, because no two people are the same.  
Original
Each sonnet is an original piece of work based on the information you submit.
Each carefully curated to provide your personal message to them.
​A one of a kind gift carefully curated from your connection.
Personal
"
I was spoilt with a personalised birthday sonnet commissioned from Paul Adams of Small Crown Productions. Feeling blessed
.
Steve
/ Recipient
"
This is fantastic, Thank you so much! Perfect!
Amanda / Purchaser
Add An Original Border
Enhance the visual impact of your sonnet by adding one of three original borders inspired by Medieval manuscripts. The Borders have been designed and hand drawn by accomplished visual artist Tallulah Cunningham. The sonnet will be added in a digital font that resembles the ink pen style of Shakespeare's day and delivered as a high resolution PDF. The borders are designed so that you can hand colour them for the recipient if you so wish; or they can be digitally coloured prior to delivery for you.
Floral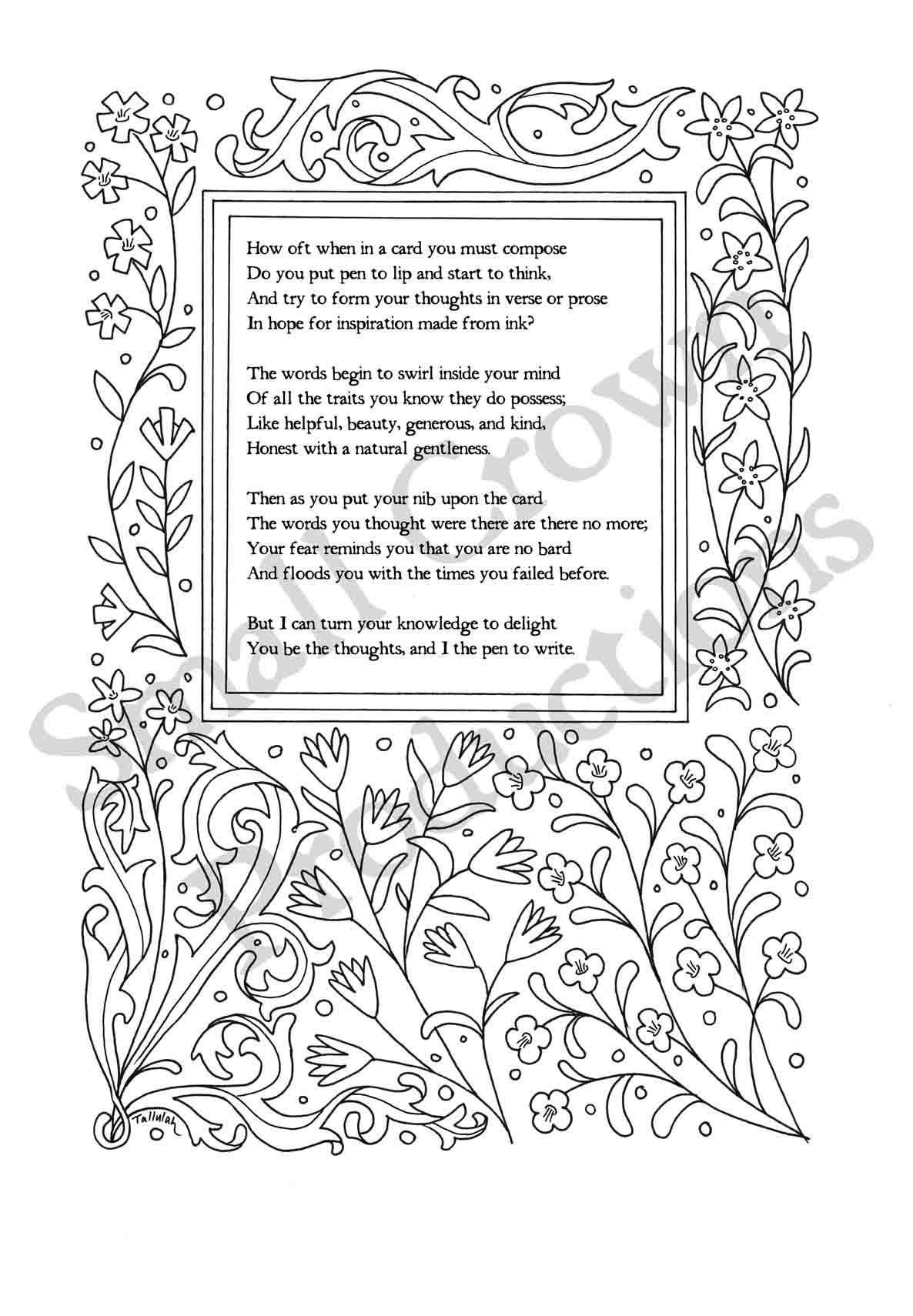 The Stag
The Hunt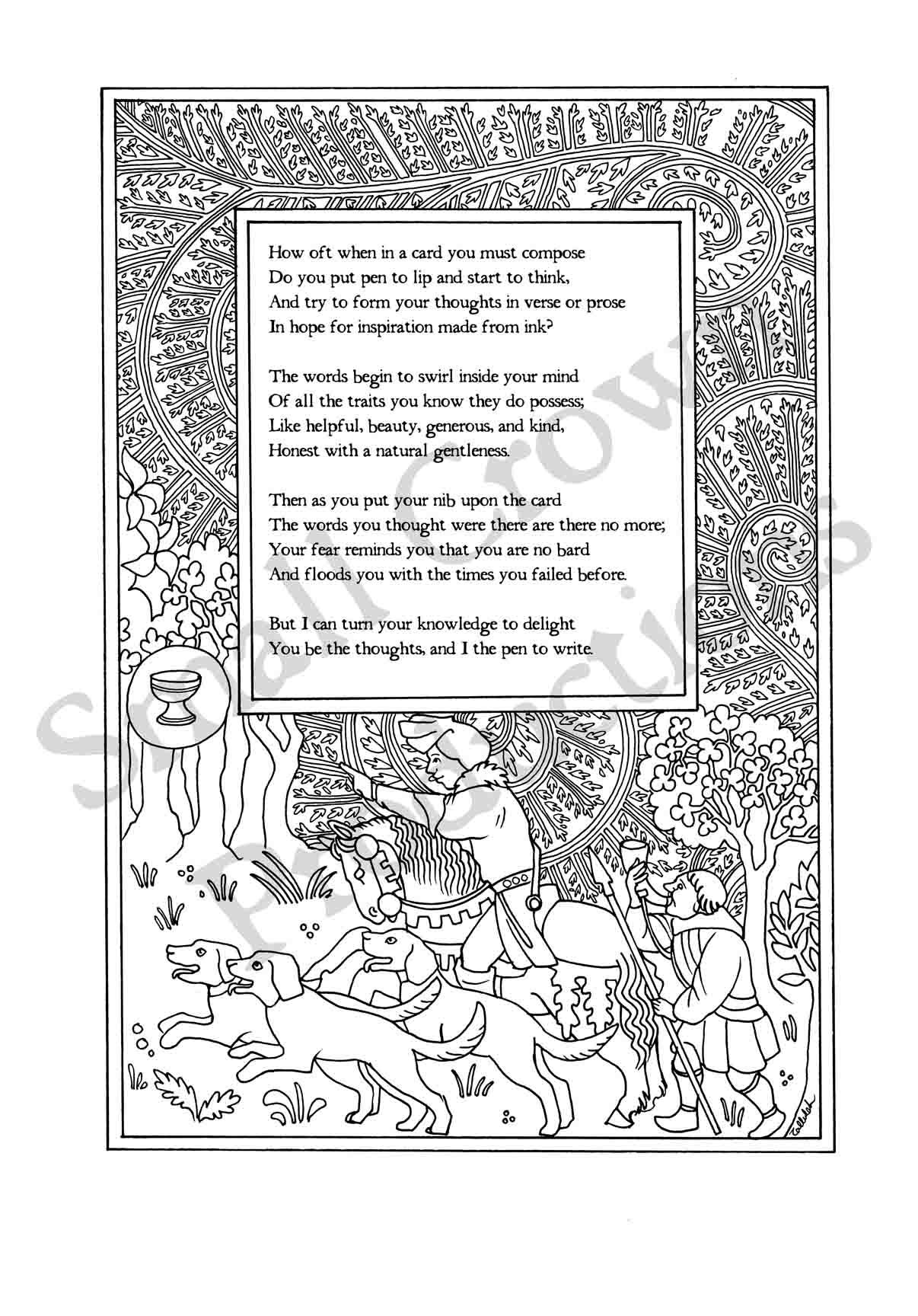 Pressing the 'Order Now' button will take you to purchase your sonnet. Once purchased you will receive an email with a link to a questionnaire so you can provide some information so the sonnet can be as personalised as possible. Please note, not all the information about the person will be used.  Having a wide range of information creates options that can be used as inspiration. You will be able to choose your own style either Love, Comedy or Inspirational with themes, and ideas specific to the recipient threaded through the text. Sonnets are guaranteed within 14 days but an express option can also be purchased. How oft when in a card you must compose Do you put pen to lip and start to think, And try to form your thoughts in verse or prose In hope for inspiration made from ink? The words begin to swirl inside your mind Of all the traits you know they do possess; Like beauty, helpful, generous, and kind, Honest with a natural gentleness. Then as you put your nib upon the card The words you thought were there are there no more; Your doubt reminds you that you are no bard Fear floods your mind with times you failed before. But I can turn your knowledge to delight You be the thoughts, and I your pen to write.
"
They are amazing! Thank you so much.
I love them. Thank you again!
Elizabeth
/ Purchaser
"
Perfect! Just Perfect. I love it! Thank you so much.
Cathy / Purchaser
THE FORMAT
A Shakespearean style sonnet has:
14 lines of text
Each line 10 syllables long
12 lines of ABABCDCDEFEF Rhyming pattern, ended with a rhyming couplet.
A 'turn' in line 9 or 13 – this takes the sonnet in a new direction.  
In the example 'For Imogen' after being told that a woman like this is but a dream, the turn reveals that not only could she be real but we may know here.  By replacing the A in imagine with an O her name is revealed.
In the example 'For Kimie' we hear about a dancer so horrible in their technique that we would want to run away from the performance. The sonnet leads us to think it talks of Kimie, but Line 13, the turn, reveals something different.
The Author
Paul Adams is an experienced Shakespearean performer and lover of the Elizabethan stage. His work as an artist spans 20+ years across a number of companies including the 4MBS Shakespeare Festival and the Queensland Shakespeare Ensemble.Paul cut his teeth on Shakespeare which formed the core of his production work for many years before diversifying into other classic texts, and original work inspired by classic stories of mythology and history. He has written over 50 sonnets in the Shakespearean form.
We respect your privacy and will not share your details.
Copyright Small Crown Productions